Digital and Mythological: from Unicorns to Highlanders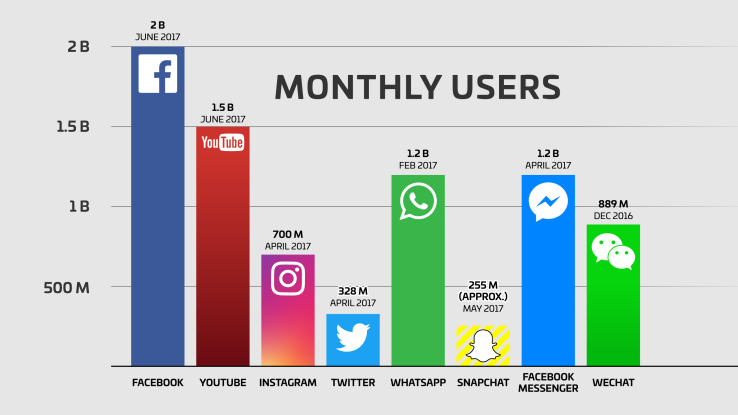 Intro
Since the beginning of the digital era it was already evident to me everything was going to become unpredictable, while in constant evolution, and everything would have impacted economies, everywhere, both in places where digital is already broadly adopted and in places where it has not hit the road yet.
And I believe the digital economy, with so much of it directly connected to end users through the interaction of social media with brands, news, and everything, is affecting our society more and more. Tell it to the Media Alliance (2000+ media companies in the US and Canada combined) that have recently called for an action against Facebook and Google for their dominance in the digital space (the two companies count for over 60% of the ad spend in the US) and for their contribution to spread false news and influence people with such false news.
I have not found any studies on society changes due to the broad digital adoption, and the last classical study on the psychology of the crowd is dated 1896. I wrote my dissertation thesis about the possible impact of the digital era on businesses and online communities 20 years ago (yes, 20!), but I keep observing changes as I keep observing this sector. And yes, I could see there would have been a deep impact already 20 years ago.
As things keep changing and shaping, I have decided to start this SocialNetConomy blog in 2011: to (help) get a clue of what's going on. Because honestly, after over 20+ years online, I see I am not the only one who keeps asking a lot of questions (yet being indicated as a visionary in the field by those who operate in it).
So here I am again, after a few years of busy working time, while looking for a new career opportunity (I am open! Contact me if you need someone with my profile, which is open on LInkedin) I have decided to come up with a new blog post around something I have been observing lately and that it has been in my mind for some time:
while the attention has gone to the myth of unicorns in almost any analysis about emerging digital companies, another myth has become more and more evident as digital markets – some of which still at their early stages – consolidate: the one of highlanders (or monopolists, if you prefer).
I'll walk you through my thoughts and analysis to help you get a (kind of) complete vision, and I have prepared an infographic that will give you some figures I have gathered on statistics and economics websites.
Comments and shares are more than welcome.
There can only be one
The more I read about digital sectors, like music streaming, video streaming, food delivery, other than social media and e-commerce, the more I deep dive into additional reports to look for a confirmation of what I have been observing since the past few years. To write this article I have gathered information from various sources, including European Commission on digital economics, the german commission on monopoly (get a long and interesting report here), web-based media such as Forbes and TechCrunch, more traditional media such as FT and company sources (Alphabet/ Google, Amazon, etc), other than statistics/ data from Statista, Netcomm, to name a few. No blogs, only trusted sources.
For this blog post I analysed the most promising and healthy online sectors, including some more consolidated ones, for a larger picture:
Search engines
email providers
Social Media
IM Mobile Messaging (chats)
E-commerce
Music streaming
Video streaming
Online travel
Food delivery
I have selected these digital sectors for their strong link with social media and for their constant growth or expected significant growth.
While digital businesses have often been measured with Unicorns, better known as private companies valued at $1B+ (you can find a complete list including exits backed by VCs since 2009 and possible future unicorns here), as we move forward in the digital era, as more connected users become additional clients to digital companies, as new startups emerge and as they leverage from pioneers and improve strategies, as VCs learn the lesson as well, and as finally regulators and legislators (are called to) set some kind of rules, the whole startup scenario changes.
Lets have a first closer look at the examined sectors
I am sure you have seen this picture already. This was very inspiring to me for this article – though at a first glance it puts together different sectors – because human interaction in these apps/ services is definitely not the same. And also their business model is definitely not the same. So comparing them is somehow pointless, but a deep analysis of these services, and more, does tell us something more important, and that's the scope of this article.
1- Search engines
At the beginning of the internet there was no Google. We had Netscape and Altavista (or Altervista if you wanted to get to a geek world) or Yahoo and other sources such as Ask Jeeves. After Google came in, everything changed. Literally. You could ask Google everything. And you could actually find what you were looking for – this was the real change! And everything else we used to search the internet was kind of blown away. Yahoo and Bing are still hardly catching up, but Google won the battle and it's probably been the first and most long-lasting highlander. And its monopoly is getting bigger with Google operating in additional markets other than search engine.
When Mr G launched G+ I raised my concern, already 7 years ago: Google has too much information about too many of us. While we keep on being kind of protective with our Facebook privacy, we forget about the fact that Google knows what we search on the internet, what we click on from the results, what company we work for (business gmail), and how is our company performing (analytics), where we travel to (maps and flights and train tickets for companies that have added automatically that function), where we eat (restaurant search and the call directly from results, and not this apply to any service we look for an call directly from its results), our appointments (also with other people and companies), and so on. And if you haven't tried yet, try and run a google search while you are logged in with your gmail account and then from another browser where your cache is empty and you are not logged in. And to me the point here is not our privacy, but the global economy.
Search engine power is key. Google mastered it since the beginning by narrowing the effectiveness of Adwords and paid search and they managed to keep their brand cool too.
And here is the magic of a company like this one: when you need something you don't run a search, you "google it". That's when you become a natural monopolist or, more mythologically, a Highlander: your brand has become a synonym of that specific action/need, in digital.
I will leave data to the infographic, but just to set your mind, in a market of search valued at about 100B$/year, Google counts for over 88%.
2- email providers
Emails are, like search, one of those things we all have in our pockets. And on of the first things of the internet that came to our door. My first email was with AOL in 1992. Then I got a hotmail, a @tin.it (Italian from the incumbent IP) and then gmail. And no need to tell you what is the one I use the most today. I am sure it happened to you as well. And no need to tell in the last 8 years also my business email has been a gmail. And when you get asked for an email address, you often get a question like "do you have a gmail?". There are, according to estimates, about 3 Billions of monthly web-based email users, and Google has a good slice of that business. In fact, according to their last published annual report "Google's core products such as Search, Android, Maps, Chrome, YouTube, Google Play, and Gmail each have over one billion monthly active users".
3- Social Media
For Social Media I mean media where you can interact socially "many to many", mainly. So in this group I don't mean Youtube or WhatsApp, but only those Facebook-likes, those that connect you simultaneously and frequently with more people at once.
When I started this blog it was the beginning – or almost the beginning – of a broad access to social media: more users/ families could get easy and cheap access to the internet, more people could get easy access to smartphones – whose access to network was a lot easier and quicker and cheaper than before – and technology along with a broad penetration of social media had already become a phenomenon that was here to stay. It was summer 2011.
One of my first posts was about Google+: the anti–Facebook that so many influencers tried to push but that in the end never popped up, exactly like I predicted just a week after its launch.
The Facebook monopoly appeared clearly soon, it was not even closer to its predecessors like geocities, myspace or netlog, and not even the pale trial of Mr Google with its super-geek and super pushed by influencers G+ could beat it. The only true competitors to Facebook have emerged in places such as Russia (with their VK and OK, which is lately growing faster than before) and China (where Tencent's QQ is broadly adopted since Facebook is not yet legally accessible). One of the most interesting aspects of social media is that they are broadly used and they act, even when not in advertising contexts, as pure advertisers, it's the old good word of mouth in pixels. It's the way we connect to the world and it has generated big wins in all sectors who have been able to ride this wave.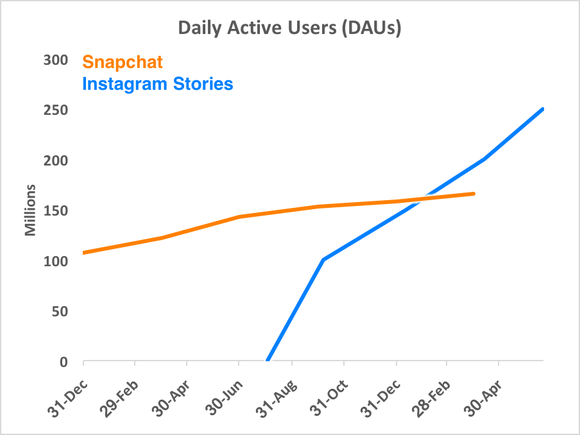 There's no doubt Facebook is the Highlander here, especially if we also consider what's going on in the battle between Snapchat and Instagram: Facebook wins here too. Just as a reminder Facebook bought Instagram for around $1B in cash and stock in April 2012, and introduced paid advertising on Instagram in 2013. In summer 2016 they added "stories" and they started growing at an impressing pace, almost blowing away Snapchat, which was king amongst teens until then. In march 2017 Instagram announced 1M advertisers and Forbes estimates that Instagram is now worth between 25B$ and 50B$ (which is a good range), and in an article still Forbes reports by 2018 Instagram revenues are expected to reach 5B$.
4- IM Mobile Messaging
WhatsApp is another of those things where the brand has become a synonym of the action: "I'll WhatsApp you later" – isn't this the new "I'll text you later"? And since when it's in Facebook's hands, everyone feels somehow more connected. As WiKi, smartphones and mobile access to data became easier and cheaper, IM Mobile messages have replaced the more expensive text messages (and MMS). The only thing of WhatsApp I still can't cope with are its stories. But that's another matter. Like for the social media space, some messengers are emerging in some big regions, such as Tencent and its WeChat in China and like Line in Japan and imo in Latin America. The strategy behind messengers and chats? For some it's stickers (Line made more than $270 million from sticker sales last year, yes, that was correct, and they also get a fee from their embedded wallet payments), for others revenues sources are advertising and brand accounts along with wallet payments (WeChat made over 2B$ in online advertising in fiscal 2016 according to their financial statement and they have an embedded wallet payment too), Facebook's messenger will not count of wallet payments, and they have announced today they will put advertising in messenger chats. According to a VC estimate the mobile messaging market is worth $250+ B USD and IM mobile messaging counts for between 5-10% of it in 2018.
5- E-commerce
E-Commerce is the big one here. Revenues in e-commerce are measured in Trillions, versus all other categories which are in Billions, just to give you a quick idea of how much we are talking here.
E-commerce usage varies in geographies, with US and Asia dominating the market, in terms of users, revenues and companies (Amazon and Alibaba).
E-commerce is something I was writing already about some 15 years ago, in my past life of analyst in the retail industry, well before the internet hit our pockets with smartphones. I remember I was already writing about multi-channel retail, omni-channel retail and mobile payments, and sometimes I kind of feel like in "Back to the future" today, considering how much time has past between when I wrote about some things that still have not happened yet.
E-commerce is growing at a very fast pace, yet it is counting for less than 10% of the total retail turnover in big markets such as the United States. The biggest challenges of a broader adoption of e-commerce mainly relies in the necessity of re-thinking the strategy of companies based on physical distribution centres, with local/regional replenishment needs (and production cycles) and related costs to a (mainly) physical business. It will take ages to brands to take advantage of the e-commerce channel properly, especially since as of today the low percentage of adoption does not call for great investments in digitalising the enterprise and renewing a company strategy and its workforce to be ready to the e-commerce evolution. Just think of how differently marketing is done between physical and digital retail: the former is often based on predictions and assumptions of complex equations between store walk-ins, purchases and repeated purchases, season, projected age based on product sold and so on, while the latter is based on certain data: if someone makes a purchase online, retailers will likely know everything about their client, in real time. Still, of course, there are some data retailers don't know, like why such a high percentage of viewers then don't buy, but there could be many reasons for this, including search for price comparison, click while a page is still loading and you go to the advertising for a poor performance of the website showing the ad and so on.
Keyword is economy of scale, and Amazon and Alibaba know this very well and other than having a first entrant advantage they are getting closer to having their brand used as a meaning of the action. You will not hear "I need to order it online", but you will hear instead "I need to order it from Amazon" (or Alibaba, depending on which side of the planet you live in). And Amazon is not just sitting there in the comfort of its leading position. They keep pushing for innovating themselves and for anticipating market needs, such as lobbying for drone delivery – and they have recently patented a drone skyscraper to support delivery – which they want to get done within 30 minutes and they also recently closed a huge deal to deliver Ikea products (and Ikea is famous for its own delivery too!).
6- Music streaming
I have worked for about 4 years in the music streaming business, from 2013 to 2017. When I started in 2013 one of the biggest challenges we had to face was we needed to tell the market what it was. This has been of incredible help to understand and anticipate the market needs. I still believe streaming is the right technology for listening to music everywhere (sorry for the nostalgics of the big mixtape players carried on a shoulder while going on skates in the '80 and for the vinyl lovers, 4% of the market is not a standard). The music streaming market is still at its early stage and I believe it still has to front a number of issues, from finding the right model that allows streaming companies to stay competitive and not in loss, to finding the right model to equally distribute revenues between the parties (artists, labels and distributors) and ensure artists are remunerated fairly. Music streaming companies are digital distributors, and there is a lot of confusion on who pays who and how much and how streaming companies make money. And it's a market where user price is determined not by competition, but by the right holders. That being said, while the market consolidates (I have seen companies disappear from the scene and others closing multiple offices very quietly and others more  cutting heavily and loud their workforce) and while the technology keeps penetrating the addressable market, there is already a big winner and as emerged from a recent study in the UK, also Youtube had to leave space to Spotify in the "battle" of naming a service as a meaning to an action.
And I believe one of the most interesting moves has been done recently by Spotify – which is this sense looks like Amazon, and it si anticipating the market needs and opportunities- when they have acquired the startup Mediachain, to work on blockchains. And in this sense I was actually expecting Spotify to get back to Soundcoud to implement blockchains to their catalogue. I will try to explain for those who are not familiar with rights-based businesses like music and with blockchain: blockchain is – allow me the expression – a digital tattooed "block" that you place on a digital product to keep track on how it moves on the internet. Every time it moves around the net, you get to add another "block" to that "chain" so you keep track of it. It's a technology coming from bitcoins, to guarantee what you buy is not fake digital money.
Spotify may solve at once a few issues around the music streaming business with this acquisition: better allocation of royalties to labels and artists, another step towards the anti-piracy in the market and ultimately a more fair general allocation of revenues to work in a more sustainable business. And I am sure this will help labels, editors, distributors and artists too.
7- Video streaming
Similar technology,  different sectors, rules and company evaluation: the video streaming market, the paid one, with value content, is another digital sector to watch for its fast growth and for the marked preference of users. The on-demand video streaming is at its kind of early stages, considering broadband access still has to spread across the globe, nevertheless some big players already have emerged: Netflix, Hulu and – again at the top of the list – Amazon.
The market is worth about 20B$ according to Statista, if we combine streaming both for on demand for subscriptions and for single views. And combining top players' subscribers, who are about 300M worldwide, considering almost all subscriptions allow from 2 to 4 users, that number could get to an impressive rounding.
While Netflix is already the one more ahead in the highlanders race with its 100M subscribers (and likely over 200M actual users), some analysts stay skeptical about its staying as number one, I believe what really matters of the video streaming business, especially now that Amazon Prime offers more titles, Facebook gets in with sports contents, Youtube Red is pushing for paid contents, is that in the medium run – we don't even need to get to a long run here – cable TVs and entertainment companies will have to get in this business or fight with it – through partnership or acquisitions and we are likely going to watch Netflix movies in movie theatres, on-demand contents and shows and likely sport events on a video streaming platform. Now that with technology we can have more contents more quickly and at a cheaper price we don't need a TV channel to get rights for any show that we can otherwise access via streaming and we have millions of users ready to pay. And with more people speaking more languages, I believe this is going even faster than we can think. Once again the human factor is the most important one in the equation. I would not be surprised to see streaming of live concerts on these platforms too – as artists and labels will be ready to this. We have a winner, but companies to watch are Amazon, Facebook, and maybe Youtube, if they are able to quickly readapt their business model.
8- Online travel
Another huge online business that I included in this analysis is the online travel business. The entire (offline + online) travel & tourism sector has developed into an industry with an annual economic impact (direct, indirect and induced) of around 6.5 trillion U.S. dollars worldwide. From Google flights to Booking to Expedia, Kayak, Amadeus, it's becoming more and more frequent to use online (and DIY) sources to book our travels. According to a recent report, the Online Travel Market is estimated to reach $1,091 billion by 2022. According to Statista today's online sales in the travel market are at over 500B$ worldwide and it looks like it's already a race of two between Expedia and Priceline (Booking.com), and this is more evident if we exclude business travel from the equation.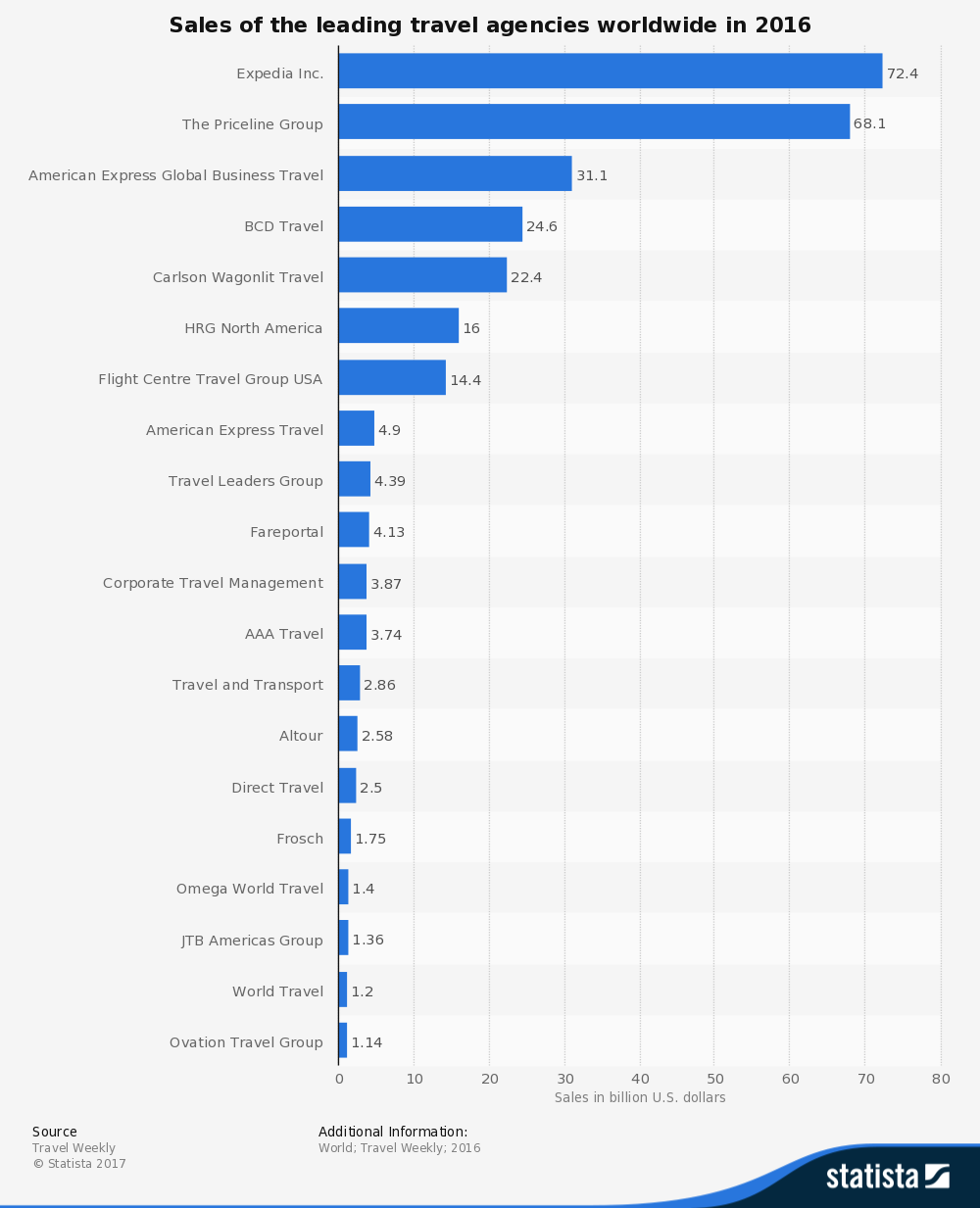 9- Food delivery
The online food delivery market keeps growing at an impressive double – if not triple – rate and its biggest market is China (with over 39B$). The USA (19B$) and Europe are surely interesting growth markets to watch, and some early moves in consolidation appear – at least where, like in the UK, the market looks already like a three-horse race between Uber, Amazon and Deliveroo. In the US Deeliveroo has moved a first step in the busy market with the acquisition of Maple, but it has not started delivering meals yet – while it has started already hitting some asian markets. And until Amazon will complete its strategy of restaurant delivery it looks like the game is still pretty open – but I wanted to add this market to my picture because I believe it's an interesting market to watch (oh, and then I am a food lover, of course).
According to TechCrunch the whole online food delivery market in the US only has a value of nearly 210B$.
According to McKinsey we need to distinguish between aggregators – who allow consumers to search and compare for food to order and then point to the restaurant or meal company (like Just Eat, Delivery Hero, etc) and what they call "new-delivery players", like Deliveroo and Foodora, who also provide the logistics for the restaurant. These latter's market value is estimated to reach around 20B$ by 2025, according to McKinsey. And this is the sector to watch. Exactly like for e-commerce, handling the logistics has revealed as a key point for this business. It's still hard to get information around this sector and understand who is wining the race, especially because of the nature of this business which demands g-local companies (that hybrid between global and local), but I am sure in the medium term this sector will evolve into a face of few and then we'll get our highlander, and who knows, maybe it will have long ears.
Food delivery is an interesting market that, in the era of Netflix, work-from-home, crowded cities where workers are concentrated satisfies a basic need, other than ensuring some extras to restaurants. This is a winning point: it helps both partners grow: the restaurant and the company offering this service. We know partnerships help businesses grow, but in this specific market partnership is at the core of the business model, somehow like e-commerce. And I would not be surprised to see it growing at the same pace. I will update with figures as I get them.
Infographic: Digital Highlanders
I have summed up the information from this article into an infographic: